- You'll always return for another vacation in the Northern Wilderness -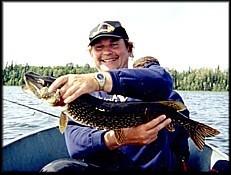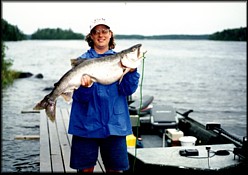 Fishing on Dog Lake
Our cottages, located at strategic points along the shore of the lake, are conveniently placed for fishing. With its many arms and bays, Dog Lake covers over 13,000 acres and has a shoreline of 120 miles packed into only a few miles of travel. These bays, that see limited fishing pressure throughout the year, have the greatest variety of game fish in Northern Ontario.
In the pristine waters of Dog Lake, you will fish for Walleye, Lake Trout, Northern Pike, Jumbo Yellow Perch, Smallmouth Bass, Whitefish and Burbot.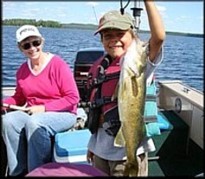 ===================================================================
Tackle & Tips
Walleye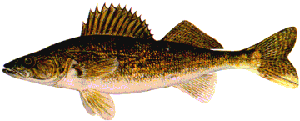 Hands down the most targeted species around. Renound for their flavor, walleye are angled mainly with lead head jigs tipped with minnows, leeches or worms. Either jigged over the side or casted out and retrieved slowly near the bottom, this method work best all year long. Use 1/8th oz. in the spring and 1/4oz. during the summer.

Also used are lindy rigs with bottom bouncers with spinners, or floating jigs with bait. Some crankbaits produce in the spring. Most use 6 - 8 lb test line on a light to medium action spinning rod. In the spring, walleye are targeted in shallow water and as summer progresses, a bit deeper.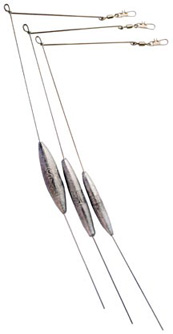 ---
Lake Trout

A favorite among locals for their flavour and fight, lake trout can be either angled with salmon-like tactics or taken by still fishing with large sucker minnows and a heavy jig. Fished deeper, (sometimes up to 100 feet) you'll need a stiffer rod with heavier line like 12 - 20 lb test.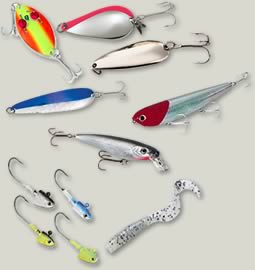 Early in the spring when the water is still cold, Lakers are very shallow. They are often caught while trolling along the shore or in bays. As summer approaches and the water temps climb, trout seek deeper depths and their comfort range of 53 degrees. Here they chase their forage which are schooled up. The best times are early morning until 10:00 and late afternoon until early evening.

---
Northern Pike
Mainly angled with spoons or any surface lure. Medium to heavy rod actions with baitcast reels with 10 - 15 lb line and steel leaders which are a must. In the spring and fall, pike are found in shallow water close to weedy bays. In summer the larger ones are deeper off sunken islands and near points. They prefer these spots both for the cooler water and the tactical position it offers. From here they can leave the shelves or cover and go shallow easily to ambush their prey.
A great way of catching the larger fish is employing the sucker minnow rig. As seen below, the sucker is hooked so that it is still capable of swimming. It will naturally produce the tempting motion of injured prey. The rig is fished over weed beds, off points or near rocky shoals. A float is placed about a foot or two above the rig to keep the sucker high and above the cover. Since pike monitor the surface, this is a very effective set up. The larger the bait used, the better. A 6 - 8 inch sucker is ideal.

---
Yellow Perch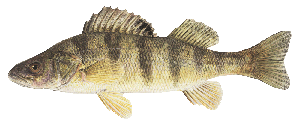 Perch are taken with small crappie jigs tipped with worms or minnows and on ultralight gear. They are mainly fished in amongst the weeds during the summer months and into the fall. A favourite method is to use a bobber, split shot sinker and small hook tipped with small minnows or pieces of worms.